Please note: this hybrid event is free and open to the public and will take place at Burlington House and online. 
If you missed registering for this event, you can still join us for our live stream on our YouTube channel.
Outreach, telescopes, tinkering and gumption
Science outreach should create a sense of enthusiasm, inclusivity, and empowerment for its participants. At the end of a career in disruptive digital technologies, the presenter draws on his own life experiences to suggest better ways of engagement aided by tinkering and making.
At public outreach events, we are often too concerned about demonstrations with a 'wow' factor. Attention-grabbing activities should be just the opener if we want to influence in the long term. We need to consider participants from a wide diversity of thinking styles. Many have a learned bias away from 'academic' subjects and prefer activities that are hands-on or require different thinking strategies. 

During the last 10 years the presenter has become aware of an explosion in 'making' activities. Much of this involves technologies such as 3D printing, laser cutting, Raspberry Pi computers and other low-cost programable devices. Over the same period, the he has been developing outreach activities in physics. It has become clear that including a maker activity in outreach events gives better and longer lasting engagement.
The PiKon telescope is a significant project which has evolved over this period: a 3D printed astrocam which uses a Raspberry Pi computer and camera to capture images. It was originally intended as a demonstrator for a talk at Sheffield University's 'Festival of the Mind' and has progressed through crowd funding to become an off-the-shelf kit of parts to support makers with an interest in astronomy. Over 450 kits have been shipped worldwide. The users have improved the design, made additions and shared astronomical images on social media platforms.

This presentation will take a structured view of the benefits of making, how it influences issues of cognitive diversity and overcomes learned bias – and, ultimately, how making can lead to independent learning, problem solving and innovation. Something the presenter likes to call 'gumption'.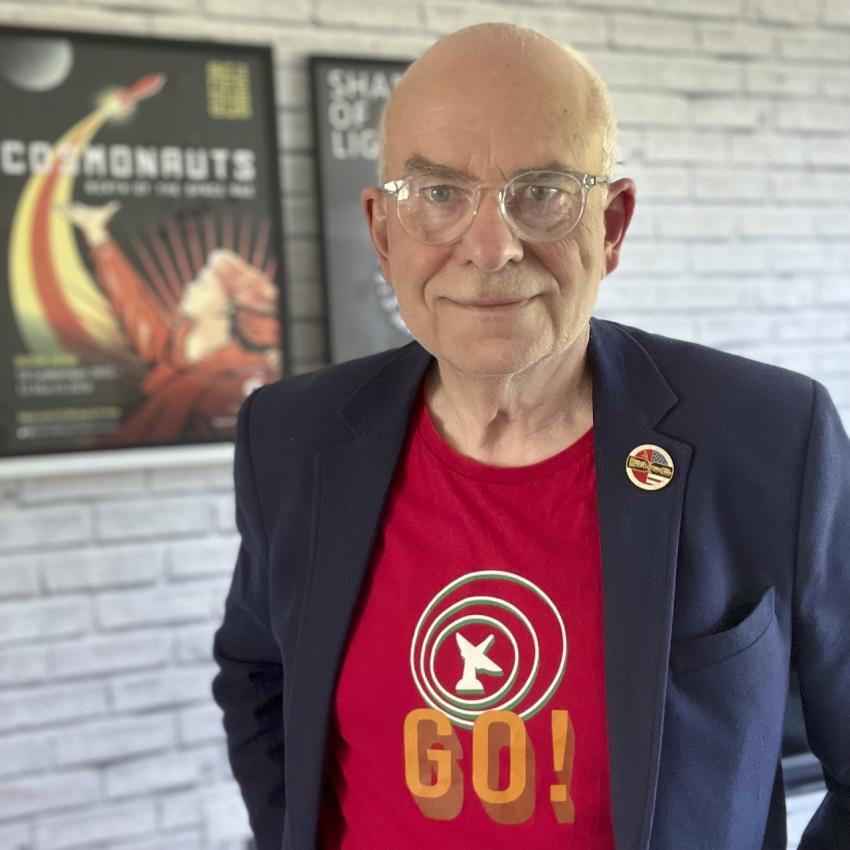 Mark Wrigley
About our speaker
Mark Wrigley
If asked, I identify myself as a physicist. It is a philosophy and methodology that has served me well for a career in fast moving technology companies. I was a child of the space age, and my enthusiasm for the Apollo space programme, intense curiosity and rebellious nature led me to study physics at the University of Leeds in the early 1970s.
My career started out measuring blade temperatures in gas turbine engines using analogue optical and infrared techniques. It continued in aviation data acquisition and saw the introduction of digital methods.
My involvement in disruptive digital technology continued in the 1980s when I joined a company specialising in digital mobile communications. I was part of the team that delivered the first digital (2nd generation) mobile phone to market. The subsequent roll out of mobile phone infrastructure saw a move to overseas appointments in China, the USA and Japan before becoming a product manager for mobile network software.
In retirement, I decided to return to my roots and became a Fellow of the Royal Astronomical Society and the Institute of Physics. I have led outreach activities for the last 10 years with the aim of inspiring the next generation of scientists and technologists. In 2016 I was awarded the Institute of Physics, Nations and Branches Prize for 'Excellence in Outreach'.
I am particularly interested in addressing diversity in outreach, both culturally – influenced by my overseas appointments and family links to Mexico and India and cognitively – from my experiences leading innovation teams and managing technological disruption.
Venue Address
Map
51.5085763, -0.13960799999995